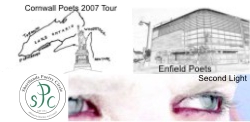 latest on site:
latest new pages:
1st Apr:
Poetry on the Lake (Italy)
30Apr:
Ver Poets,
Ware Poets
Grey Hen
Poem Cards, books:
latest cards:
Anne Stewart (Birthday)
Katherine Gallagher (Anytime)
shop window:
Comp results: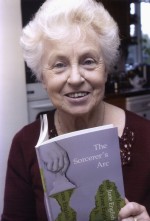 Flowering
If I could pout my petals, spike my leaves,
I'd be a Christmas Cactus in a pot.
One of those nice to look at don't touch Eves
whose heart is stitched into, not tacked up, sleeves,
blooming and blazing until overshot.
Then turns its back, becomes a 'touch me not.'

But no. I'm more the Hollyhock: na&iumlaut;ve,
back garden type. The faithful bloom-again,
a Summer dress, colourful but plain;
packed away to bring out every year.
The high necked sort that don't drive men insane,
with ample bosom-room to house kind hearts.
The ones that send men pubbing for a beer
a pint or two and several games of darts –
a homely frock for birds of little
brain.


June English
published in
Orbis