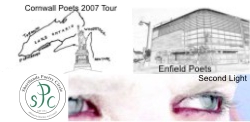 buy ppf books & poem cards & selected items from other publishers – poetry p f SHOP ONLINE
EVENTS LISTING – readings, courses & venues
COMPS & CALLS – Apr 30th: Grey Hen, Poetry on the Lake, Ware Poets; Ver Poets

Site Patron: Andrew Motion
3rd December 2015: poetry p f is featured at Abegail Morley's blog, The Poetry Shed…
latest on site:
latest new pages:
Apr 30th: Grey Hen;
Poetry on the Lake (Italy);
Ware Poets;
Ver Poets
Comp results:
Poem Cards, books:
latest cards:
Anne Stewart (Birthday)
Katherine Gallagher (Anytime)
shop window: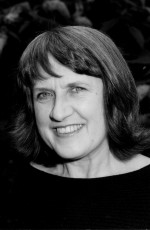 Biodiversity
(after
Lobster Telephone

, Salvador Dali)

Lobster and telephone have found each other:
the telephone can't eat the lobster
the lobster can't eat the telephone.

The phone's gone kitsch, wearing
an electric-orange hard-hat,
keeping the day on hold.

Sooner or later it had to happen
that some laser-eyed lobster
would shake off one sea and find another –

a stunned, air-shell ocean of voices
listening to sterlob sterlob,
lobster language

as if for the first time.


Katherine Gallagher
in collection
Carnival Edge: New and Selected Poems


(pbk & hbk), 2010, Arc Publications