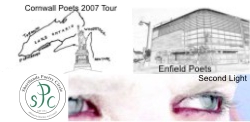 latest on site:
latest new pages:
Mar 1st:
Brittle Star
Comp results:
Poem Cards, books:
latest cards:
Anne Stewart (Birthday)
Katherine Gallagher (Anytime)
shop window:

Giving a Damn
I wonder if it's now beside the point
to write a sonnet to the one you love
or if it's just that times are out of joint
so easy now to casually shove
a coin or two into the ringing till
of chic boutique or local corner shop
where noone gives a damn if that lace frill
embodies heartfelt truth or is a sop
to what of poetry we will admit
into our lives in each unfolding year
as long as we can make the message fit
our own, our one and only truest dear.

But even if these modern fears prove true,
I send my love (a plethora!) to you.


Joan McGavin