Latest Anthology from Writers Group
programme membership contacts & address for post
getting there photos
Local Poets Laureate List Liverpool Poets Places to find poems
Nobel Prize Winners (Literature, just a selection)
In 2011 Shortlands Poetry Circle celebrated our 100th year! See: Centenary
Just a few of us:
kneeling & seated, left to right: Maggie Hoyle, Anne Stewart, Wyn Parkinson
heads left to right: Christine Pope, Kathleen Mustoe, Anne Stooke, Bryan Corrin,
Jennie Milnes, Diane Chorley, Alan Smith, Nola Turner, Lesley McLetchie,
Muriel Letman, Sheila Corrin, Patsy Paine, Ann Barlow...
... Come and join us when you can!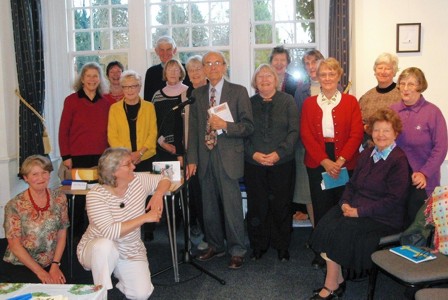 13th December 2011 - the final readers' meeting of our Centenary year
photo courtesy & © copyright Isabel Turvey
Shortlands Poetry Circle was established in 1911 by Miss Catherine Punch. Its aim was to promote the study and appreciation of poetry, and it has been going strong and remained true to that aim ever since.
"Edward VII had died the year before. Stainless steel had not been invented. Dylan Thomas had not been born. Stravinsky was yet to compose The Rite of Spring" (Christopher Highton, Past President, 1997).
The group continued to meet regularly through both World Wars and, in 1947, it became the North-West Kent Branch of the English Association and was long affiliated to Bromley Arts Council (now Bromley Arts Trust). The Circle also enjoyed long-standing relationships with both the Poetry Society and the Poetry Library at the Southbank.
Along the way, the Circle has given birth to a Drama Group, alas now disbanded, and, soon after the end of the Second World War, a Writers' Group (ages ranging from twenties to eighties), which has produced five anthologies of poetry (in 1971; for the Circle's Diamond Jubilee in 1981; in 1997; each passing breeze at the start of the Centenary year; and the rainbow comes and goes, in 2021, celebrating the Circle's 110th anniversary).
Sweet are the pleasures that to verse belong,
And doubly sweet a brotherhood in song;
"so wrote John Keats to his friend George Felton Matthew"
(Mary Nugent, Past President, 1971).
A friendly and informal group, the reading Circle meets regularly for the reading (never our own, but for one annual programmed meeting) and enjoyment of poetry, followed by a general get-together over tea and biscuits. Discussions are lively, the topics are wide-ranging (see programme) and the selection of poets' work varies from the old favourites to the newest and less-well-known, with often surprising and exciting choices, often from the Laureate List or local poet list.
There is a Summer Celebration meeting, where entertainment is provided (ticket sale event), an annual 'Portfolio' reading event run by the Circle's writers, a celebratory Christmas reading, occasional 'special' events, such as a quiz or readings, and the group is occasionally involved in collaborative events with other local groups and gives periodic readings at suitable outreach venues (Contact President if you would like to discuss a project).
Latest anthology of poems by Members and Past-Members
of our Writers' Group (Buff Press, 2021)
Our writers have come together once again to celebrate an anniversary - in this case, the 10th anniversary of our Centenary.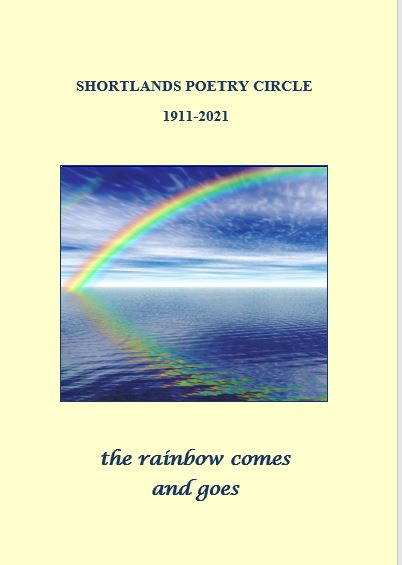 buy the book online
Visitors are most welcome at the meetings (£2.50 donation including refreshment - see getting there), as are new and potential members of all ages (see Membership).
The programme is set well in advance so that there is plenty of time to research the poets or topic of the day and make your selections. (see Great places to look for poems)

Meetings are twice a month, on Tuesdays, during the academic year, from 2:30 to 4:30pm at Ripley Arts Centre and one online meeting each month, on a Monday, using Zoom.
Please feel free to print the programme and pass copies to your friends and colleagues.
Autumn 2023
We also have a mailing list. Please let us know if you would like to receive the new programmes as they are published, and details of our special events as they arise, by joining our mailing list
Date Poem Topic
Autumn 2023
Live: Tue 12 Sep Open Choice
Online: Mon 18 Sep Open Choice OR Metaphysical poets
Live: Tue 26 Sep Metaphysical Poets - see Poetry Foundation and/or here (Oxford Dictionary of National Biography)
Live: Tue 10 Oct Writers' Portfolio - reading by Shortlands Poetry Circle Writers
& 1 poem from others present
Online: Mon 16 Oct Metaphysical Poets OR Topic: Sleep & Dreams
Live: Tue 24 Oct Topic: Sleep & Dreams
Live: Tue 14 Nov Topic: Memory
Online: Mon 20 Nov Topic: Memory OR poems by Scottish Poets
Live: Tue 28 Nov Scottish Poets
Online: Mon 4 Dec Scottish Poets OR end of year poems
Live: Tue 12Dec end of year poems
and diary dates for Spring term 2023:
live, Tue: Jan 9 & 23 Feb 13 & 27 Mar 12 & 26
online, Mon: Jan 15th Feb 19th Mar 18th
Membership is by annual subscription, with a reduction for those joining after the Spring term. The rates are currently (w.e.f. AGM, March 20):
Full Membership £30 (members who expect to attend most meetings)
(note, this was reduced for 2021 due to lockdown to £20)
Associate Membership £ 15 (members who expect to attend intermittently
and wish to be kept on the mailing list)
Visitors live meetings £ 2.50 donation per visit, including 50p for refreshments
online meetings - no charge up to 3 meetings in a calendar year
President: Anne Stewart +44(0) 1689 811394 / +44 (0) 7850 537489 e-mail
Membership Secretary: Christine Pope +44(0) 208 464 9810
Correspondence by post:
Shortlands Poetry Circle, c/o 20 Clovelly Way, Orpington, BR6 0WD.
Ripley Arts Centre - how to get there:
First, let us know you're coming so we can look out for you! Contact the Membership Secretary. Regular Venue: Ripley Arts Centre, 24 Sundridge Avenue, Bromley, BR1 2PX. For Ripley Arts Centre, google map has a "get 'there' from 'here' function", for directions by road.
There are a few parking spaces in the grounds for those with walking difficulties (entry from the North part of Sundridge Avenue), and local street-parking (e.g. in the road opposite and in the West part of Sundridge Avenue).
By Rail: The nearest station is Elmstead Woods (on the Orpington line). The walk from there to Ripley Arts Centre is probably at least 15 minutes, along Elmstead Lane and Sundridge Avenue.
Bus: Number 314 (Bromley to Eltham route).
Great places to look for poems:
Local Library
Independent and Second-hand bookshops:
The Kirkdale Bookshop, Kirkdale Road, Sydenham;
limited parking in the street outside
Beckenham Bookshop, High Street, Beckenham — if they haven't got what you're looking for, they will usually be able to get it for you within 24 hours
Barely Read Books, The Green, Westerham—we've heard this is a very good second-hand bookshop but not whether it has a poetry section (we'd be glad to hear from you if you know)
On the net:
Ancient: Bartleby English Verse Poem Hunter
Modern: nth position Peony Moon Poethead (women poets)
The Poetry Shed (Abegail Morley Blog) Poetry Archive
Poetry Magazines poetry p f Second Light
Old and New: Black Cat Poems Schmoop
We'd love to know your favourites. If you'd like to contribute, please email the details of your favourite poetry places to the site editor
Ben Jonson and Sir William D'Avenant are considered by some to have been 'unofficial' laureates, but the formal list begins with the appointment of Dryden:
John Dryden 1631 – 1700
Thomas Shadwell 1642 – 1692
Nahum Tate 1652 – 1715
Nicholas Rowe 1674 – 1718
Laurence Eusden 1688 – 1730
Colley Cibber 1671 – 1757
William Whitehead 1715 – 1785
Thomas Wharton (the younger) 1728 – 1790
Henry James Pye 1745 – 1813
Robert Southey 1774 – 1843
William Wordsworth 1770 – 1850
Alfred, Lord Tennyson 1809 – 1892
Alfred Austin 1835 – 1913
Robert Bridges 1844 – 1930
John Masefield 1878 – 1967
Cecil Day-Lewis 1904 – 1972
Sir John Betjeman 1906 – 1984
Ted Hughes 1930 – 1998
Andrew Motion 1952 –
Carol Ann Duffy 1955 -
Simon Armitage 1963 -
"The Mersey Sound", edited by Adrian Henri and first published in 1967, is still obtainable.
Amazon has it for 1p plus p&p of circa £2.50. Beckenham Books have it for £7.99. It should be available through libraries.
the most well-known:
Adrian Henri
Brian Patten
Roger McGough
their contemporaries:
John Gorman
Mike McCartney (brother of Sir Paul)
Liz Ashworth
Neil Innes
Kate Robinson
Andy Roberts
others with Liverpool connections:
Elaine Feinstein
James McKendrick
Peter Robinson
We'll add more if we find them!
Local Poets - just a few of them...
Steve Aylett (1967 - ), born in Bromley, still publishing in the UK, US & Spain
Aphra Behn (1640 - 1689), born near Canterbury

Enid BLYTON (1897-1930) Lived in Beckenham. Book of verse:

'Child whispers' (1922)

Robert BRIDGES (1844-1930) Born at Walmer

Alan BROWNJOHN (1931-) Taught Beckenham Grammar School

Geoffrey CHAUCER (c1343-1400) Made Knight of Shire of kent in 1386 & then probably lived in county till his death

Richard CHURCH (1893-1972) Lived many years in Kent

Dinah Maria CRAIK (1826 - 1887) Lived in Bromley from 1864

Keith DOUGLAS (1920 - 1944)

Ford Madox FORD (1873-1939) Settled in Kent 1894

Christopher MARLOWE (1564-93) Born at Canterbury

J(eremy) H(alvard) PRYNNE (1936-) Born in Kent

Vita SACKVILLE-WEST (1892-1962) Born Knole, lived Sissinghurst

Siegfried SASSOON (1886-1967) Brought up in the Weald

Philip SIDNEY (1554-86) Born at Penshurst

Christopher SMART (1722-71) Born near Tonbridge

Thomas WYATT (1503-42) Born at Allington Castle near Maidstone

and you may be able to find The Scarpfoot Zone, an anthology of Contemporary Poetry from Kent published in 1996, featuring 35 poets, including Ted Walter (1933 - 2012), who was for many years an associate member of Shortlands Poetry Circle.
and current/past Circle members/associate members:
Nick ALLDRIDGE Isabel BERMUDEZ Jean ELLIS
Christopher HIGHTON Pat JACOBS Keith MASSEY
Lesley McLETCHIE Jennie MILNES Foster MURPHY Jan OTTLEY
Wyn PARKINSON Christine POPE Janet RYAN Jane SHARP
Alan D SMITH Ruth SMITH Anne STEWART Nola TURNER
and Ted WALTER
Wikipedia has a 'Winners for Literature' list here with links to pages about them. Amongst them, these names most may have come across in relation to poetry:
1907: Rudyard Kipling (UK)
1913: Rabindranath Tagore (British India)
1923: William Butler Yeats (Ireland)
1946: Hermann Hesse (Switzerland, born Germany)
1948: T S Eliot (UK, born US)
1951: Pär Lagerkvist (Sweden)
1956: Juan Ramón Jiménez (Spain)
1958: Boris Pasternak (Soviet Union)
1963: Giorgos Seferis (Greece, born Ottoman Empire)
1969: Samual Beckett (Ireland)
1971: Pablo Neruda (Chile)
1975: Eugenio Montale (Italy)
1980: Czeslaw Milosz (Poland)
1983: William Golding (UK)
1984: Jaroslav Seifert (Czechoslavakia, born Austria-Hungary)
1986: Wole Soyinka (Nigeria)
1987: Joseph Brodsky (United States, born Soviet Union)
1990: Octavio Paz (Mexico)
1992: Derek Walcott (Saint Lucia)
1995: Seamus Heaney (Ireland, born N.I.)
1996: Wislawa Szymborska (Poland)
1999: Günter Grass (Germany)
2007: Doris Lessing (UK, Zimbabwe, born Iran)
2011: Tomas Tranströmer (Sweden)
2020: Louise Glück (US)

... have fun!
SHORTLANDS POETRY CIRCLE CENTENARY, 2011
Letters of Congratulation from:
R V Bailey: Letter Poem written to Shortlands Poetry Circle
Mimi Khalvati Pascale Petit Anne Stevenson Stephen Stuart-Smith
Miriam Valencia - Saison Poetry Library
What a year! It's all behind us now, including the painstaking archiving of the year's records... Who knows what our successors will be looking for in 2111!
It has been tremendous fun and I think we'll still be talking about our Centenary Lunch, with our wonderful guest poet, Alan Brownjohn, when we're putting our next set of celebratory events together, whenever that may be. Meantime, a selection of our photos are gathered here.
Tues 15 Mar 11: launch of celebratory anthology "each passing breeze"
at the Beckenham Bookshop, with readings by Lesley McLetchie, Wyn Parkinson,
Christine Pope, Janet Ryan, Alan D Smith & Anne Stewart
7th May: Spring Into Summer
Members gave a reading at St George's Church, Beckenham
as part of the St. George's Arts Festival.
~~~~~~~~~~~~~~~~~~~~~~
17th June: Members gave a reading at The Croft Tearoom, St Mary Cray
Food, Poetry & Music with a French flavour...
~~~~~~~~~~~~~~~~~~~~~~
28th June: Centenary Lunch at the Bromley Court Hotel
attended by The Deputy Mayor of the London Borough of Bromley, Mr Reg Adams
and Chair & Deputy Chair of the Bromley Arts Council,
Mr John Williams & Mr Christopher Town
Plus reading from our very special guest, Alan Brownjohn.
~~~~~~~~~~~~~~~~~~~~~~
8th October: We invited 5 modern poets to give us a 'Poet Taster' at the Beckenham Bookshop.
Michael Bartholomew-Biggs, June English, Katherine Gallagher,
Nancy Mattson and Graham Mummery
Each poet gave a short but impressive reading of 12 minutes - and each so different!
Lesley McLetchie read from the Writers' celebratory anthology for the centenary, each passing breeze, and Maggie Hoyle read poems from the 'Schools Portfolio' - poems written by the students of local schools, who were invited to take part in our Centenary 'Schools Poetry Project'.
~~~~~~~~~~~~~~~~~~~~~~
Shortlands Poetry Circle wishes to thank Enitharmon Press for their generous
donation of books for fund-raising towards the Centenary Celebrations
Enitharmon Press are publishers of poetry and high quality art books:
www.enitharmon.co.uk

and a special thank you to local schools for taking part in our Schools Poetry Project,
especially the students who contributed poems.
How wonderful for us to have a Portfolio of your poems to hand down
through the generations...

Participating Schools: Valley Primary, Highfield Junior,
Langley Park (Boys & Girls schools), Newstead Woods School for Girls
A Selection of Photos from Shortlands Poetry Circle Events
Centenary Lunch, Bromley Court Hotel, 28th June 2011
Photos courtesy & copyright © Isabel Turvey
Honoured Guests: Alan Brownjohn & Mr Reg Adams, Deputy Mayor of the London Borough of Bromley


Member Anne Thomas
Honoured Guest Mr Tony Williams (BAC)
Guest Patricia Kennedy

Honoured Guest Mr Reg Adams
and President Anne Stewart,
Honoured Guest Mr Christopher Town (BAC)

Member Wyn Parkinson
and Past President Pat Jacobs

Members Nola Turner and Alan D Smith
Guest Tom Ryan

Members Shirley Coupland, Sheila and Bryan Corrin


Alan Brownjohn, signing member Diane Chorley's copy of Ludbrooke and Others

(excluding Alan Brownjohn): Members Lesley McLetchie, Elizabeth Ward, Diane Chorley,
Muriel Letman, Christine Pope and Janet Ryan
Poet Taster reading, Beckenham Bookshop, 8th October 2011
photos by & copyright © Maggie Hoyle & Anne Stewart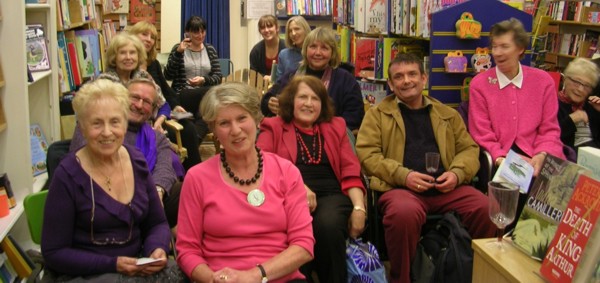 Our Readers, left to right front row: June English, Maggie Hoyle,
next row: Michael Bartholomew-Biggs, Katherine Gallagher, Graham Mummery, Lesley McLetchie,
behind Katherine: Nancy Mattson
and both sides of the central bookshelves: a small but exceptionally appreciative audience!
with glass raised: Kelly, owner of the Beckenham Bookshop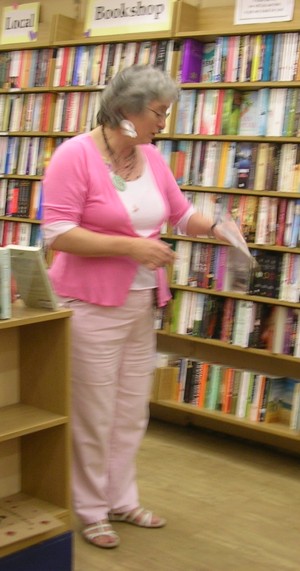 'Now you're all going to stand riiiiight... here'
Presenting (and completing the 'pink' parade): Anne Stewart

photos from the launch of the Writers Group anthology, "each passing breeze"
at Beckenham Bookshop on 15th March 2011
Photos courtesy & copyright © Isabel Turvey
Beckenham Bookshop - preparing for the reading

Tom Ryan & Poets: Janet Ryan, Alan D Smith


President of Shortlands Poetry Circle,
Anne Stewart

Lesley McLetchie


Wyn Parkinson


Christine Pope


Writers Group Secretary, Janet Ryan
Getting into the Centenary spirit...
photos from the "Interiors & Exteriors" reading on the 8th February 2011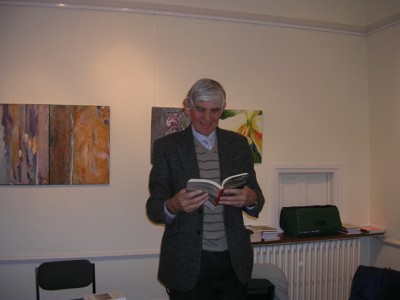 Bryan Corrin
| | |
| --- | --- |
| Patsy Paine, Rosemary Pratt, Elizabeth Ward | Anne Stooke, Diane Chorley, Nola Turner |
| Anne Stewart, Alan Smith, Elizabeth Friend | Diane Chorley, Patsy Paine, Maggie Hoyle |
Shortlands Poetry Circle, 2006
just a few of the members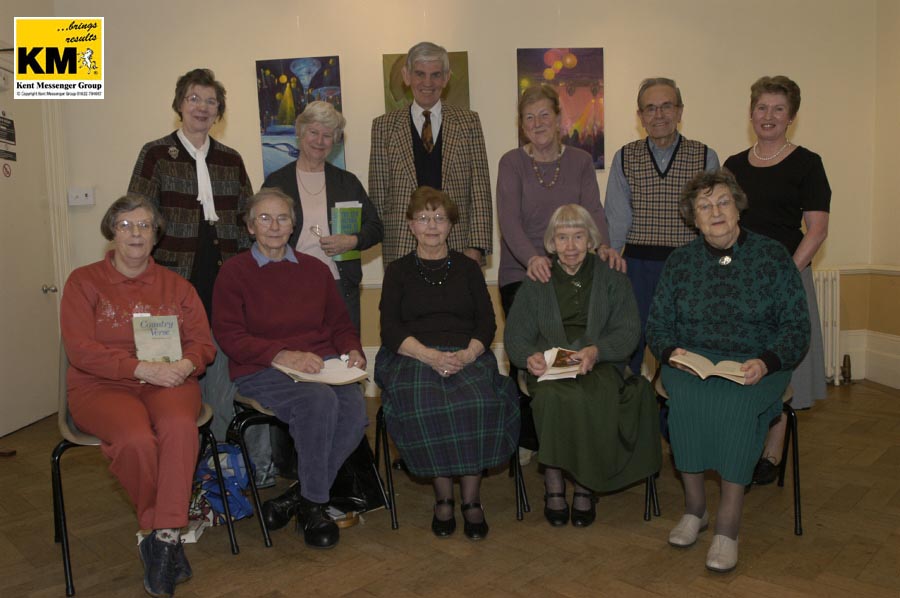 Left to right: Ann Barlow, Lesley McLetchie, Joyce Remmett, Patsy Paine,
Bryan Corrin & Wyn Parkinson,

Elizabeth Sibsey, Dorothy Clift, Alan Smith, Pat Jacobs & Maggie Hoyle
Past President: Elizabeth Sibsey
(holding newspaper article)
and
Past President: Pat Jacobs

Member: Alan Smith
(reading one of his chosen poems)
and
Past Secretary: Maggie Hoyle

2006 photographs by Katharyn Boudet

included by kind permission of Kent Messenger Group
Note: this page created for Shortlands Poetry Circle by poetry p f
on a sponsored-page basis— no formal association exists otherwise