Diana Brodie ( - 2019)
Biography as provided by Diana in 2010:
Diana Brodie was born in New Zealand but boarded a ship for England in 1966 — as soon as she could afford the fare. After two years in London, she moved with her husband to Cambridge where she now lives. Two daughters and six small grandchildren live in Cambridge and in London.
Although she began to write poetry in 1996, it took a year or so to admit it publicly, but a correspondence course with the Open College of the Arts was followed by an Arvon course where she met Mimi Khalvati and learned about the Poetry School in London. After that, her enthusiasm made concealment impossible. Since 1997, Diana has been a regular attender at Poetry School courses and workshops and belongs to her local, publishing-oriented writers group. Her first published poem appeared in the anthology Entering the Tapestry (Enitharmon 2003), and several competition successes followed, including placings in three Poetry Society Members' competitions and a shortlisting for the Hamish Canham Prize. She organizes a Poetry Reading Group in Cambridge.
Her poems have been published in a number of magazines including Agenda, Smiths Knoll, Rialto, Poetry News, The Interpreter's House, Poetry Nottingham, Borderlines and Weyfarers, as well as on several websites. Her collection, Giotto's Circle, was published in 2013 by Poetry Salzburg.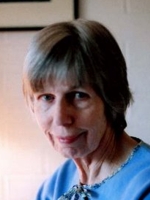 poetry favourites:
Tim Love's Lit Ref
Agenda
Poetry School
George Szirtes
Duotrope's Digest
Lighten Up
and in the shop ...
collection -
"Giotto's Circle",
Poetry Salzburg
in anthology -
"Entering the Tapestry",
Enitharmon