home> poets> Dennis Tomlinson biography


last update:

10th Sep19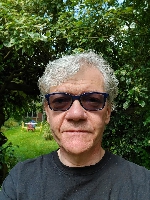 e-mail Dennis

listen to poem Dining Room
poetry favourites: George Szirtes
Poetry ID
Ink Sweat & Tears
and in the shop…
pamphlet collection –
"Sleepless Nights",
Maverick Mustang Manuscripts;


fantasy volume –
"The Voice of Heaven: Ulbic Stories of Wise Men and Heroes"

in anthologies –
"After Orwell",
"Coming into Leaf", "Junction",
and
"From Different Skies"
Poetry ID
Dennis Tomlinson: I grew up in Hertfordshire, where the Poetry ID group really stimulated me to write after I joined in 2006. I moved to London in 2013 and plunged into the scene here.

I have had many poems published in small magazines including Lunar Poetry, Blithe Spirit and Time Haiku, on the websites Ink, Sweat and Tears and Shot Glass Journal and also in two of Ruth O'Callaghan's Genius Floored anthologies and collections from Dempsey & Windle, the Ver Poets and Poetry ID.

Some of my translations from German poets have appeared in Modern Poetry in Translation and The Wolf, and book reviews in Tears in the Fence.

My first poetry pamphlet, Sleepless Nights, was published by Maverick Mustang Manuscripts in 2019.

I completed a PhD in German at the University of Bath in 1993.