ACE Bloodaxe Books Peterloo Poets fal publications Cornish World

Cornish World 54:
colour feature article "Poetry Kernow"

"Three women poets from Falmouth are
travelling to Toronto...." (more - pdf)
Who are the Cornwall Poets? About the Canada / US Tour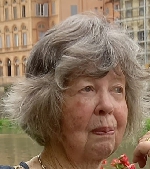 Caroline Carver Victoria Field Penelope Shuttle
link to ppf pages link to ppf pages
the poetry can at Truro Cathedral Poetry Archive
at Truro Cathedral Poetry International
...even more about Cornwall Poets?
Yes! and about Poetry in Cornwall — essay by Penelope Shuttle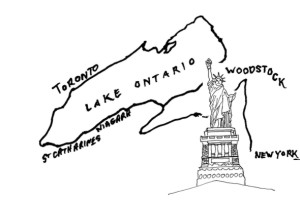 Penelope Shuttle, Caroline Carver and Victoria Field went on a reading tour to Canada and United States in October 2007 and (not quite as early as we planned!), we now have some photos and comments from some of the events After Words....
There were readings in and around Toronto and Ontario and New York City and Long Island. Schedule - pdf
The three, all based in Falmouth, have very distinct poetic voices and represent some of the diversity and vitality of contemporary poetry in Cornwall. Cornwall has long been a centre for artistic activity and its poetry scene is currently hugely vibrant. One characteristic of Cornish culture is its international reach – remote from London, it naturally connects, through the Cornish Diaspora, to North America, Australia, South Africa and Mexico, than to the conventional metropolis.
The idea for the tour grew from a visit by Long Island poet George Wallace to Cornwall in October 2006, where he gave workshops and readings in Falmouth and other Cornish venues. He invited the three poets to New York and Long Island in a follow-up to a successful reading tour by Cumbrian poets Geraldine Green and Linda Graham to North America earlier that year. Cumbria has much in common with Cornwall and Geraldine Green is working on developing these links.
The tour was Arts Council funded with sponsorship from the three poets' publishers, Bloodaxe, Peterloo and fal publications as well as the international magazine of Cornish culture, Cornish World.
Oct 11th 01:00 a.m... and still standing (mostly!)

Oct 12th... love the windows

Oct 15th:
Some things are the same wherever you are...
(read Caroline's journal)

Oct 16th: at The New School, NY
Mon 15th: Some things are the same, wherever you are... from Caroline's journal:
Travelled from Toronto's Union Station to New York, climbing up those high steps over the train wheels which are so exciting in themselves. Survived the three hour stop at the border, fingerprints, photographs and interrogation, but everyone on the train was easy in manner, almost as if they'd been told to lighten up. It was a long journey.
Some things are the same, wherever you are. Not one but two freight trains broke down in front of us, "distressed trains" they said each time, and at one point they gave us a new engine. Why? We sat for ages in the darkness, couldn't see the lovely Hudson River valley we were travelling down, just exciting bridges now and again. At one point the minimal restaurant was declared "temporarily closed" and we couldn't get into it any more although through the glass we could see the train staff sitting locked in there together. away from abusive passengers. Except they weren't, people were very docile and just settled down to sleep.
It felt as if the journey would never end, surreal. Finally we pulled into Penn Station at about ten to one in the morning. Our Redcap said he'd never known a train three hours late before. No consolation. We wearily climbed into our different taxis as Penny was going uptown to meet a friend, along with her 10-ton suitcase. My husband, who was with us on the Toronto part of the trip, said he was very impressed by the muscles of poets!
Victoria and I went off in another taxi to the Gramercy Club. And what an amazing place that is. Creakingly old-fashioned, but clean rooms and amazing portraits and paintings and 'objets d'art' everywhere in profusion: a tiffany-style ceiling in the bar, a skeleton in a coffin in the basement (more "art") as we went on our way to our rooms on the third floor in an elevator that looked as if it had been there since the days of Columbus. New York is always this strange combination of very old and very new.
V and I went out to a 24 hour restaurant on the corner where we had glasses of wine and unwound a bit so it was 2 before we went to bed. Four days later we had the same waitress and she remembered which wines we had ordered night one. New Yorkers were so efficient and so friendly!
Fri 19th: he then read us one of his poems. All this while barrelling down at speed down the Long Island Freeway... from Caroline's journal:
Long Island. It was our reading at Huntington Barn this evening with viedo recordings first, v good, but we had to be there by 7 for this.
It was great to have an audience of poets and be in a small attractive old barn where people were used to being and doing things together. Afterwards we all went to the pub for drinks and then Victoria and I set off to spend the night with a poet cum garlic farmer. It turned out to be 50 miles to his home. Twice he turned on the overhead light in the car and rummaged through his notebook and then read us comments he'd written on our poems – impressive that he'd taken the trouble, but also frightening, and he then read us one of his poems. All this while barrelling down at speed down the Long Island Freeway.
We arrived at his ranch-style house in the Pine Barrens after midnight. We'd hoped to be able to stay in his yurt but that idea was less romantic in the middle of the night so V crashed on the sitting room pullout bed and I slept in the study. Exhaustion overtook us and we slept really well. Little pots of beautiful garlic everywhere.
Extract from a poem: A Sense Of Granite... from Caroline's journal:
A famous climbing spot in Canada is at Bon Echo, in Northern Ontario. Engraved on a sunlit slab of rock is a quotation from Walt Whitman:
"My foothold is tenon'd and mortis'd in granite;
I laugh at what you call dissolution;
And I know the amplitude of time."
I know what he means...
these rocks have more time than they need
batting shadows along their length
like the bear and her cubs on the clifftop
swatting at flies
or stalking climbers on their way back to camp
generation after generation
the bears are there eating blueberries
while rattlesnakes
sleep on the imperturbable stone
which can't be bothered
to watch the progress of the sun
clefts have agreed to make their own shadows
soak up heat like a birthright are too ancient
to think in anything less than millennia
but you see they are Gods
they are too strong to fear what nature throws at them
and see notes from Geraldine Green
October 2007 - Penelope Shuttle, Caroline Carver & Victoria Field
Tue 9th: noon - Arts & Letters Club, 14 Elm Street, Toronto, ON.
and evening - Canada/Cornwall Connections, 295 Indian Rd (near Keele St. Subway)
Wed 10th: Niagara-on-the-Lake Public Library, 10 Anderson Lane, Niagara-on-the-Lake, ON.
Tue 16th (host Patricia Carlin; introduced by George Wallace): The New School,
Room 510, 66 West 12th Street (between 5th & 6th), New York.
Subway: No. 1 line, 14th Street.
Wed 17th (introduced by George Wallace; with Geraldine Green): The National Arts Club ,
15 Gramercy Park South, New York.
Thu 18th (with Geraldine Green): Bowery Poetry Club, 308 Bowery, New York,
NY 10012. Bowery Poetry Club directions
Fri 19th (with Geraldine Green): Poetry Barn, High Street and New York Avenue,
Huntington, Long Island, NY 11743.
Mon 22nd (with Geraldine Green): The Colony Cafe, Colony Arts Centre,
22 Rock City Road – Woodstock, NY 12498.
Arts & Letters Club Bowery Poetry Club Bowery Poetry Club directions
Niagara-on-the-Lake Public Library The National Arts Club The Colony Cafe
ACE Bloodaxe Books Peterloo Poets fal publications
Note: this page created for Cornwall Poets by poetry p f on a sponsored-page basis— no formal association exists otherwise