Cheryl Moskowitz was born in Chicago and has lived in London all her adult life.
A trained psychodynamic counsellor, Moskowitz co-founded LAPIDUS, the association for Literary Arts and Personal Development and works as a writer in schools and in the community. Cheryl is a featured writer on the Excellence Cluster Adopt-an-Author project in Basildon 2009/10. She has taught on the Creative Writing and Personal Development MA at Sussex University since its inception in 1998. She is a regular guest tutor for Word For Word writing group in North London and a participant in Mimi Khalvati's Advanced Poetry Workshop (The Poetry School) and a member of the Haringey-based North London Stanza (Poetry Society).
Moskowitz began as a poet in the early 80's when she worked with the poetry collective Angels of Fire and was a founding member, together with poets Lindsay MacRae and Jeremy Silver, of the performance poetry group LIP. Her poems were published in several notable literary magazines and anthologized in Purple and Green (Rivelin Grapheme Press, 1985), Angels of Fire (Chatto & Windus 1986), Dancing the Tightrope (The Women's Press, 1987) and The Dybbuk of Delight (Five Leaves Publications 1995). She also writes fiction and her novel Wyoming Trail (Granta) was published in 1998.
Her poem about her father's dementia 'I Left My Heart' was published in the Long Poem Magazine (Issue 1 Winter 2008/9) and 'Lifted' (highly commended by Mario Petrucci for the 2009 Torbay Poetry Competition) is published in ARTEMISpoetry Issue 3.
Moskowitz's poetry for children has featured on BBC TV's A Bear Behind and the recent CBeebies Poetry Pie series. Her first poetry collection for children Can It Be About Me?, was published by Circle Time Press in November 2009 and can be purchased online at http://www.circletimepress.co.uk.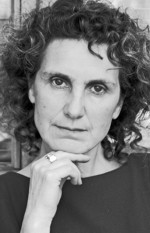 e-mail Cheryl
Cheryl's web-site
poetry favourites:
Samaritans: Poetry And Emotion (pdf)
and in the shop ...
collection -
"Can It Be About Me?",
Circle Time Press