Anna Adams was born in 1926 at Richmond, West London, and was moved to a Northwest suburb, Northwood, when she was two, and she grew up there. She won a free place at Harrow Art School when she was 13, and obtained the NDD in Painting in 1945, just as the second World War was ending.
She married a fellow student – Norman Adams – at twenty (he was 19), did various jobs, mainly teaching, for 2 years, then studied Sculpture at Hornsey College of Art, and made and sold terra cotta forms. Her children were born in 1956 and 1958, round about the time of the family's move to rural Yorkshire.
Having always written intermittently, she turned to this more seriously in 1961, having prose published in magazines and newspapers, though her first poem was not printed until 1969. Several pamphlets followed. Her first book, A Reply to Intercepted Mail was brought out by Peterloo in 1979, and other titles followed.
Littlewood-Arc Press published two collections: Dear Vincent in 1986 and Island Chapters in 1991, both still available from Arc Publications (Island Chapters in hardback as well as paperback). Meantime, The Royal Academy brought out Angels of Soho in 1988, selling out of some 3,000 copies. Life on Limestone is a collection of Anna's prose and poetry with illustrations by Norman Adams RA.
Green Resistance , from Enitharmon, came out in 1996, and "A Paper Ark" was published by Peterloo in the same year. Her most recent collection is, Flying Underwater, Peterloo, 2004.
She has also edited 2 anthologies for Enitharmon: Thames in 1999 and London, in prose and verse in 2003 and her work has appeared in cultural/geographical anthologies, from Enitharmon and Iron Press - respectively, The River Thames in Verse, and A Hundred British Islands.
Anna regards herself as more of a formalist than a free-verser; form being, in her experience, an instrument of discovery.
'Promiscuous Empathy': A Brief Guide To The Poetry Of Anna Adams,
John Killick, The North, No. 37, Nov 2005
An Accessible Nature,
Simon Darragh, London Magazine, Oct 2005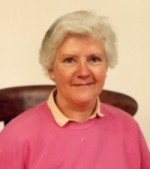 e-mail Executors
via poetry p f
in the shop ...
collections -
"Flying Underwater"
&
"A Paper Ark",
Peterloo
"Life on Limestone",
from The Dalesman
"Green Resistance"
&
anthologies - "Thames - an Anthology of River Poems"
&
"London, in Poetry and Prose",
Enitharmon