home> poets> Alison Brackenbury


last update:

13 Dec 10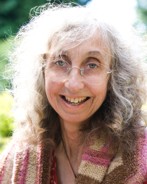 e-mail Alison
Alison's website

listen: Alison Brackenbury at Poetry Archive
poetry favourites:
Carcanet
HappenStance
PoetCasting
and in the shop…
collections –
"Then"
and "Singing in the Dark"
Carcanet;

"Shadow"
Happenstance

Valentine
You are the star that throbs the winter's dusk,
The letter that I never read before.
You are the chestnut, creamy from the husk.
When life slams shut, you are the door.

You are the light that shines my dark words true.
They only need to start and end with you.


Alison Brackenbury
published online at Snakeskin No. 130.