Valerie Josephs lives in London where she was born. Trained in fine art in London, Chicago, Glasgow and Canterbury, she has also lived in Paris. In 2003 she had an artistís residency at the Florence Trust, London. She started to write at about the same time as The Poetry School began.
She was a runner-up in the 2005 Yorkshire Poetry Competition (adjudicator Michael Longley) and was short-listed in the Templar Poetry Pamphlet competition, 2007. Her poems have been published in magazines such as Magma, Poetry News, Brand, Brittle Star and The Delinquent and in anthologies including: The Virago Book of Christmas 2002, Future Welcome (DC Books, Canada) Images of Women 2006 (Arrowhead) Solitaire (Templar Poetry) and I am twenty people! (Enitharmon) 2007.
Her poems are in Limelight 13 www.thepoem.co.uk and her close reading of White Kimono by Mark Doty is on www.strixvaria.com. There is a Poetry School postcard of her poem My Motherís Recipe for Chicken Soup and her pocket pamphlet, Green Minx, was published by Lizardís Leg Press. She is one of the ten poets featured in Gobby Deeganís Riposte (The Group with Donut Press 2004)
Other favourites: "Elevenses" (John Hegley, occasional) and "The Shuffle" at the Poetry Cafť, Betterton Street, Covent Garden.
Anthologies:
The Virago Book of Christmas ISBN1-86049-921-x £14.99 hardback
Images of Women Arrowhead Press ISBN 1-904852-14-9 £12.95
I am twenty people! Enitharmon ISBN 978-1-904634-36-2 £8.95
Solitaire Templar Poetry ISBN 13- 978-1-906285-04-3 £8.00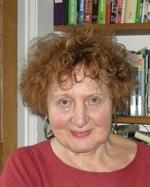 poetry favourites:
Coffee House Poetry
Poetry in the Crypt
Aldeburgh Poetry Festival
The Poem
Strix Varia
and in the shop ...
pocket pamphlet -
"Green Minx",
Lizard's Leg Press;
in anthology -
"Gobby Deegan's Riposte",
The Group with Donut Press