Virginia Warbey, 1968-2004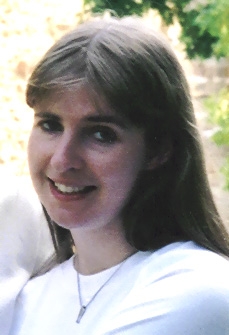 Virginia was killed in a car crash on June 10th, 2004. It was a Thursday night, at the time when the writers' group she belonged to, Chandler's Ford Writers, was meeting as we do each week to discuss our work, to support and help each other. Virginia was a member of the group from 1994 onwards – she even wrote a poem about how much the group meant to her ('better than sex, almost.')
Virginia was born and raised near Rainham in Essex. Her first writing success won her a Doctor Who novel, but undeterred, she continued producing poetry and prose and went on to study English at Liverpool University and an MA in Creative Writing from Chichester. She earned her living as a librarian, but her real job was her writing. Two of her novels – The Ropemaker's Daughter and The Carradine Diary – were published by Diva under her married name of Virginia Smith. At the time of her death, she was hard at work on her new novel, and talking of putting a second poetry collection together.
When someone dies tragically, suddenly and young, it's easy to see it as a life cut in half, to think of things not done. But what Virginia did do in her life – the loving partnerships and friendships she established, the poetry and prose she completed, the happy memories she left behind – are a very special kind of legacy. The first poetry collection Virginia had published, when she was just 22, is called A Legacy of Echoes, but the poems included in Ratified aren't echoey, reflected voices. They are strong and clear, and uniquely hers. Virginia's sense of humour, emotional honesty, love of animals, of sex, words, friends – these are all here. Perhaps, as the American poet Billy Collins says, poetry is written as a way of cheating on death, of leaving something of ourselves that outlasts our own lives.
As writers and friends of Virginia, we wanted to make sure her work was not lost or forgotten but enjoyed, just as everyone who knew Virginia herself will not forget her or her ability to bring happiness to the gloomiest day.
Chandler's Ford Writers
Ratified by Virginia Warbey, The Merdon Marque, 2004, £6.95, ISBN 1 872340 17 2 (see cover image in the shop page)
Reviews:
'These are vibrant poems, sensual poems, poems that remind you, in every line, of what it is to be alive in the world, and not just alive but alive with a poet's heightened senses and imagination. They are fine poems, accomplished poems, poems that create other worlds and experiences with vivid intensity. They have energy and humour and passion and variety. They are poems of a poet with a distinct voice and style: love poems that reinvent the love poem, " make it new", as is the gifted poet's task.'
Vicki Feaver
'When a poet dies young, a certain solemnity seems appropriate; thoughts about urns, nightingales, wild west winds. Virginia Warbey died young, and touchingly on her way to (or from) the Chandler's Ford Poetry Group, so I began reading in the proper mood. But by the fourth poem I was convulsed – not with tears, but with laughter. Warbey has a wonderful way of lulling readers into dozy acquiescence, then exploding the joke at the very last line. The outstanding quality in these poems is delight – in the 'topaz teeth' of those sons of Romford, the Essex sheep, in the garbled words of two-year-old godson Joshua ('Find Summore') – in all the pleasure of the off-beat and quirky. And delight in love of animals, of course. She has some particularly resourceful combinations of these: 'Ratified' (for a rat called Gilbert) and 'Love in the Language of Horses' and 'Falling in Love with a Lion'. And a very nice delicate hand with holy themes; but then, she thought everything holy, I suspect, even the flowers of her supplanter ('The Blue Touch of Love'). I feel I have missed someone special. I wish I had known her.'
UA Fanthorpe
'Thank you very much for 'Ratified'. They are beautiful and accomplished poems – what a loss.'
Carole Satyamurti
'I can't help immediately flicking to biographical details: I always want to place an author; to compare her to myself. Satisfyingly, I found common ground with Virginia Warbey: both of us born in the sixties; both living with a female partner; both contributors to a short story anthology by Diva Books, which published the two novels she wrote under her married surname of Smith. But what most coloured my perception of these thirty nine poems was the information that Virginia died last year in a car crash, aged 36. This, her second poetry collection, is posthumous.
Wide-open lands and the wildest of animals characterise these poems: lands of biblical proportions; lands of cowboys and big cats. Here is a strong, clear, direct, vivid, dancing, energetic and sometimes fierce voice that worships trees and revels in sex. This is a girl's voice more than a woman's, emotionally honest (in You, love is 'like the sea that creeps to fill / my moat scored lightly in the sand'); and sometimes wry: 'how easily our future could have changed its mind / and turned and walked away' (ibid. ). Some of Warbey's long lines don't so much end as flood continuously into the next like an unblocked stream, reminding me of Sharon Olds' lay-out on the page. Drunk might well have been influenced by Olds' sensual sex-blood-body poetry
Sometimes Warbey's poems seem over-long: both David and Bathsheba and The Story Cheetahs would work well without their final stanza, and Pheasant drones itself in the third stanza into a state of telling instead of showing. The poem David has a bad case of Princess Di Syndrome and might have been drawn to a close by Patience Strong herself.- 'all we ever need to do / is think of you, think of your name, / and the sun will come out in our hearts / and stay all day .' But perhaps Virginia wouldn't have chosen to include it…
Warbey's poetry - that atmosphere of youthful freedom - reminds me, uncannily, of me, and will, I expect, have the same effect on other readers. What I like best are Warbey's lovely rhythms, as in In Love With John Boy Walton:
I see him through the glass,
his blond hair falling forward,
his breath a bubble filled with unassuming air.
He'd take me to the top of Walton's Mountain if I asked,
sweet with the smell of applewood and aspen, ... '
Sue Vickerman