Paul McLoughlin (1947-2021)
Biography informationas last provided by Paul:
Paul McLoughlin was born in London of Irish parents. He continues to teach part-time in a comprehensive school and at university, and plays jazz saxophones and flute.
What Certainty Is Like was published in 1998 by Smith/Doorstop, What Moves Moves (2004) and Forgetting To Come In (2007), both by Shoestring Press. He has written articles, interviews and/or reviews for PN Review, Tears in the Fence, Critical Survey, and. most recently, Hard Times (Germany).
Poems have appeared in Anon, Atlas, Critical Survey, Cyphers (Ireland), Envoi, The Frogmore Papers*, Hard Times (Germany), The Interpreter's House*, Magma*, Navis, Nightingale, Orbis, Other Poetry, Penniless Press, Poetry Life, PN Review, Poetry Nottingham International, The Rialto, Seam, Smiths Knoll*, Southword (Ireland), Tears in the Fence and Wandering Dog. Those asterisked may be viewed at the Poetry Library on the South Bank website . The Southword poems may be found at www.munsterlit.ie. Poems have also appeared in Singing Brink: An Anthology of Poems from Lumb Bank (Arvon Press, 1987); Paging Doctor Jazz: A verse Anthology (Shoestring Press, 2004); and Warp & Weft: An Anthology of Worple Writing (Worple Press, 2007).
Review Comments:
"Paul McLoughlin's poetry has a rare clarity and exactitude. He writes about private history and its collision with the world of news; of a past which is alive in the present. His voice is poised, and his delight in language shines through the poems."
Helen Dunmore

"McLoughlin means what he says, knows what to leave out as well as what to put in, and makes his level-headed bewilderment resound like discovery."
Herbert Lomas, Ambit

"He is unflashy and scrupulous and has a nice gentle wit."
Michael Laskey

"Paul McLoughlin exhibits an Irish exuberance for the absurd and the askew, illuminated by his unique and delightfully understated tone."
Anne-Marie Fyfe

"McLoughlin combines a knack for spot-on observation with a willingness to let his imagination wander (sometimes down very strange avenues) and a determination to let readers make their own judgements."
Matt Merrit, Sphinx

"A sensitive and unsentimental imaginative reckoning of 'felt life', understatement and a droll self-effacement are hallmarks of this excellent chap book."
Peter Carpenter, Tears in the Fence
"The final lines of 'Whatever Mick Wants' not only nicely characterise the casual-seeming skills of many of the finest jazz musicians, but touch what McLoughlin's art does: 'Your tenor sax speaks jazz with the same / lazy filling out of space / you lead everyone to think you'll leave unfilled.' These poems achieve their delicately judged effects with similarly unforced-seeming skill."
Hugh Underhill, Critical Survey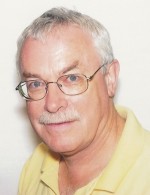 poetry favourites:
Shoestring Press
Library Archive
PN Review
Munster Literature Centre
Poetry Book Society
Guardian Unlimited Books
and in the shop ...
collections -
"The Hungarian Who Beat Brazil"
&
"Forgetting to Come In",
Shoestring Press;
"Breaking Ground: the Anglo-Saxon Chronicle Poems in Old English and Translation"
Paekakariki Press;

."What Certainty is Like", Smith/Doorstop