Pat Borthwick spent much of her upbringing on the canals and waterways of Britain. She now lives on a farm in the Howardian Hills close to the North York Moors.
She works as a freelance writer, a Creative Writing tutor and a Poet in Schools.
Pat has two full length collections (Between Clouds and Caves, Littlewood Arc and Swim, Mudfog) and several pamphlets, with a new one, Wave, due out with Hearing Eye in the winter of 2006. Her poems have won prizes in numerous competitions and have been widely published in magazines and anthologies. She has two poems in the recent The Poetry Cure from Bloodaxe. Roger Garfitt has described Pat as 'a conjuror with real stars up her sleeve' and Simon Armitage has referred to her poems as 'maps you can truly find your way by'.
Her poetry often addresses rural issues and how landscape and Man continue to shape each other. Her other main themes include astronomy and grey areas.
She has been Writer in Residence for a chalk cliff, a coalmine, a canal and a cabbage and regularly collaborates with other artists to produce joint books and touring exhibitions. Pat also works with recorded sound and received an Arts Council Award to further explore its potential as a broadcast medium. She sees her CD sonic portraits as 'writing poems with sound'.
She is a founder member and former Chair of NAWE (the Northern Association of Writers in Education) and in 1984 originated and designed the Yorkshire Open Poetry Competition, continuing with its development today as a lead organiser. She has been the Blue Nose Poet of the Year and was awarded a Hawthornden Fellowship in 2003.
Pat has recently completed a commission for the City of London Festival working with contemporary Japanese composers and an orchestra. Currently she is on a tour for INC writers giving readings and workshops on the theme of the sea.
Other publications:
Community Books:
upshoots - a year spent in the Howardian Hills with a photographer and different professionals who made their living from things that either grew or had grown in the local soil. The full colour book contains poems and photographs and comes complete with a CD soundtrack of the sounds from the workplaces.
£5.50 incl p&p from author
Chalk Marks - an A-Z of the Wolds - this is a limited edition book containing 26 poems and 26 digitally montaged photographic images. In their larger versions, and mounted, they formed a touring exhibition displayed in galleries throughout the North and North East. A CD soundtrack containing ambient sounds and authentic local voice accompanied it.
£25 from author (including boxed CD and p&p)
Sheds - a year spent with a photographer on allotments in Nottinghamshire.
£3.50 incl p&p from author
CD:
"RealEstate" - a 15 minute montaged and layered soundtrack from over 80 hours of recording sounds and voices collected from allotments in the North of England. Originally this was part of a touring exhibition The Idea of North which visited various venues including main galleries, rural museums and Harlow Carr Gardens.
£5.50 incl p&p from author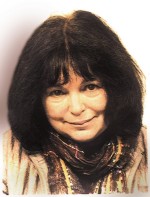 poetry favourites:
Inc Writers
and in the shop ...
collections - "Between Clouds And Caves", Littlewood Arc;
"Swim", Mudfog
featured in anthologies:
"The Poetry Cure", Bloodaxe;
"Images of Women", Arrowhead Press in assoc with Second Light Network;
and
"Stranger", Poetry on the Lake / Wyvern Works
pamphlets:
"In Deep Waters";
"Monkey Puzzles"
"Hospital Corners", Pharo
Other publications:
"Upshoots";
"Chalk Marks";
"Sheds";
CD: "RealEstate"