home> poets> Kathryn Daszkiewicz


last update:

19 Sep18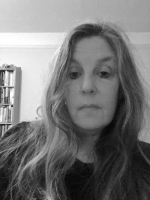 e-mail Kathryn

Kathryn Daszkiewicz website
from ppf online shop…
Poem Card –
"Seeing Stars…"
and shop elsewhere…
collections –
"A Book of Follies",
"Taking Flight"
and
"In the Dangerous Cloakroom"
Shoestring Press


The Nine Lives of My Lover
He's quite oblivious to the fact
that in my mind, he is a cat.

How many lives he's lost
through feline indifference:

the careless scratch, his night
on night desertion. How is it he

keeps coming back from the dead
end alleys he leads me down

looking for another place to sink
his claws? He has one end in mind;

but since the eighth small death
he's failed to sense that something is amiss.

Now that the number nine has come around
I will not resurrect him with a kiss.


Kathryn Daszkiewicz
in collection
A Book of Follies

, 2017, Shoestring Press,
ISBN 978-1-9103238-9-2