home> poets> Katherine Gallagher


last update:

13 Jun 10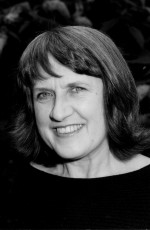 e-mail Katherine
Katherine's website
Film: The Year of the Tree
poetry favourites:
Katherine at Desperado Literature
Arc Publications
Poetry International
British Haiku Society
ARTEMISpoetry
in ppf shop online…
Poem Cards –
The Lifeboat-Shed;
Winter Hyacinths;
Love Word;
Kandinsky Journey
shop elsewhere…
collections –
"Carnival Edge: New and Selected Poems",
"Circus Apprentice"
and "Tigers on the Silk Road",
Arc Publications;

bi-lingual –
"The White Boat"
Integral/CLP
(Bucharest)
Biodiversity
(after
Lobster Telephone

, Salvador Dali)

Lobster and telephone have found each other:
the telephone can't eat the lobster
the lobster can't eat the telephone.

The phone's gone kitsch, wearing
an electric-orange hard-hat,
keeping the day on hold.

Sooner or later it had to happen
that some laser-eyed lobster
would shake off one sea and find another –

a stunned, air-shell ocean of voices
listening to sterlob sterlob,
lobster language

as if for the first time.


Katherine Gallagher
in collection
Carnival Edge: New and Selected Poems


(pbk & hbk), 2010, Arc Publications