Jane Holland was born in Barkingside, Essex, in 1966, daughter of best-selling romantic novelist Charlotte Lamb and classical biographer Richard Holland. Her first career was as a semi-professional snooker player, where she rose to be ranked 24th in the world before retiring from the sport in 1995.
She won an Eric Gregory Award for her poetry in 1996 and published her first collection, The Brief History of a Disreputable Woman, with Bloodaxe Books the following year. Her first novel, Kissing the Pink, was published by Sceptre in 1999.
She has written reviews and literary articles for many UK journals, and was editor of the poetry magazine Blade from 1995 - 1999, while she was living on the Isle of Man.
Her latest poetry collection, Boudicca & Co., was published in 2006 by Salt. She currently lives in Warwickshire with her husband and five children, working on a second novel and editing Poets On Fire, an online poetry resource featured in the Guardian's 'Best of the Literary Blogosphere'.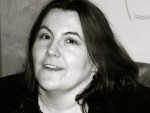 Photo by
Jen Hamilton-Emery
(Salt Publishing)
listen: Jane's poem 'Last Oak'
poetry favourites:
Poets on Fire
Writing Blog
Salt Author Page
and in the shop ...
collections - "Boudicca & Co",
Salt Publishing;
"The Brief History of a Disreputable Woman",
Bloodaxe Books;
novel -
"Kissing the Pink",
Sceptre