Dick Jones: Initially wooed by the First World War poets & then seduced by the Beats, I have been exploring the vast territories in between since the age of 15.
Fitfully published in a variety of magazines throughout the years of rambling, grand plans for the meisterwerk have been undermined constantly either by a Much Better Idea or a sort of Chekhovian inertia. So I have no prize collection to my name; I have masterminded no radical creative writing programmes in a cutting edge university department; I have edited no recherché poetry magazines with lower case titles.
For fun & profit, I teach Drama & play bass guitar & bodhran in an Anglo/Celtic dance band. If anyone would like to follow up the poems published here, please check out my blog, Dick Jones' Patteran Pages http://patteran.typepad.com/.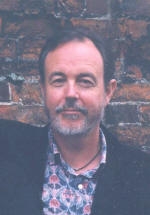 Dick Jones'
Patteran Pages (blog)
poetry favourites:
Qarrtsiluni