home> poets> Carolyn King biography


last update:

1st Feb18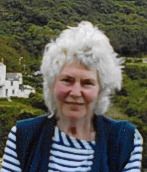 e-mail Carolyn

Carolyn at Second Light
and in the shop…
collections –
"The Reunion",
"Lifelines"
and
"Caviare and Chips",
Human Writes


Carolyn King lives on the Isle of Wight, where two of her poems are cast in bronze at Island landmarks, but grew up in Slough – alongside Eton College playing-fields – and comes from a family of musicians (mother a classical ballet dancer/actress/pianist: father a jazz violinist: great-grandfather a well-known composer, lyricist and performer around the time of the First World War).

Carolyn has always written – mostly poetry. She was involved educationally for many years with language-impaired children – and this is often reflected in her poems. She is widely published, with three collections, and was "profiled poet" in South poetry magazine in 2012. She has been successful in a number of poetry competitions and twice short-listed for the Manchester Poetry Prize (in 2013 and 2017); both these portfolios of poems are still accessible on the Manchester Poetry Prize website – Nobody Told Scarlatti for 2013 and The Cuckoo In The Pillow-Book for 2017. Recent 1st-prize poems include Souvenir (in 2015 Second Light Competition), The Star (in Poetry on the Lake – formal category – 2016); 2nd-prizes for Poem (in Sentinel Annual Competition 2015); Fall and Rise (in Segora Competition 2016); 2nd and 3rd-prize for Ebb Tide and Grave Consequences (in Thomas Gray Tercentenary Competition). Empathy was a runner-up in the latest Salopean Poetry Competition and printed in their 2017 anthology.

Last year (2017) Carolyn's poem Sea View Through Bare Branches was commissioned for a Quartet composed and performed by musicians of the Isle of Wight Symphony Orchestra; and three poems on the photography of pioneer Julia Margaret Cameron, of Dimbola Lodge, Freshwater (around the corner from Farringford, the home of her friend and poet Alfred Lord Tennyson) were published in Out Of The Shadows, a book of contemporary poetry and artworks responding to the work of JMC. Carolyn took part in the reading at Dimbola Lodge in December 2017.

With her son and daughter now living in North Yorkshire and Wales, Carolyn has recently considered moving back to the mainland – where family and poetry venues would be so much more accessible – but the Island she loves is proving a difficult place to leave … in more ways than one!