home> poets> Caroline Carver biography


last update:

3 Jun19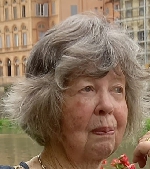 e-mail Caroline
ppf shop on-line…
pamphlet collection
Why are the lions crying?
Christmas Card
A little Christmas poem…
(& in Christmas set)
and shop elsewhere…
collections –
"Fish Eaters"
Univ. of Plymouth Press;
"Tikki Tikki Man"
Ward Wood;
"Three Hares"
Oversteps Books;
"Bone-Fishing"
Peterloo Poets;
"Jigharzi an Me"
Semicolon;

joint pamphlet –
"October Guests"
fal publications
Caroline Carver was born in England, evacuated by convoy to Bermuda in 1940, and then moved to Jamaica. She returned to school in England as a teenager, before emigrating to Canada for 30 years, where she worked as a writer and broadcaster, before moving back to Cornwall, UK in 1989. Here she joined the Falmouth Poetry Group and began writing poetry.

In 1998 Caroline won the National Poetry Competition, and was commended in 2010 She has also won or been placed in many other competitions. Her work has been translated into Romanian, Italian and French and she runs workshops and has given many readings, both here and overseas. She is a Hawthornden Fellow.

Caroline has published 6 collections and two pamphlets to date. Fish Eaters, published by University of Plymouth Press, is a large format presentation edition with illustrations from students and faculty. She has recently published a small sea-inspired pamphlet, poetry p f online shop here.